Kevin Fischer is a veteran broadcaster, the recipient of over 150 major journalism awards from the Milwaukee Press Club, the Wisconsin Associated Press, the Northwest Broadcast News Association, the Wisconsin Bar Association, and others. He has been seen and heard on Milwaukee TV and radio stations for over three decades. A longtime aide to state Senate Republicans in the Wisconsin Legislature, Kevin can be seen offering his views on the news on the public affairs program, "InterCHANGE," on Milwaukee Public Television Channel 10, and heard filling in on Newstalk 1130 WISN. He lives with his wife, Jennifer, and their lovely young daughter, Kyla Audrey, in Franklin.
The WI Legislature is in the process of deliberating over the biennial 2015-2017 budget. This is a big deal, the single most important piece of business the Legislature will take up and consider, period.

Included in the massive budget document is a requirement that high school students pass a civics test in order to receive a diploma.

Under the provision, a school board, independent "2r" charter school operator and private school choice may not grant a high school diploma and the State Superintendent may not grant a declaration of equivalency of high school graduation to an individual unless he or she has successfully completed a civics assessment beginning in the 2016-17 school year.

A person will be required to correctly answer at least 60 of 100 questions on a civics test, which is identical to the civics test required to be taken by persons seeking U.S. citizenship, as a prerequisite to obtaining a high school diploma or a high school equivalency diploma.

More details after this photo...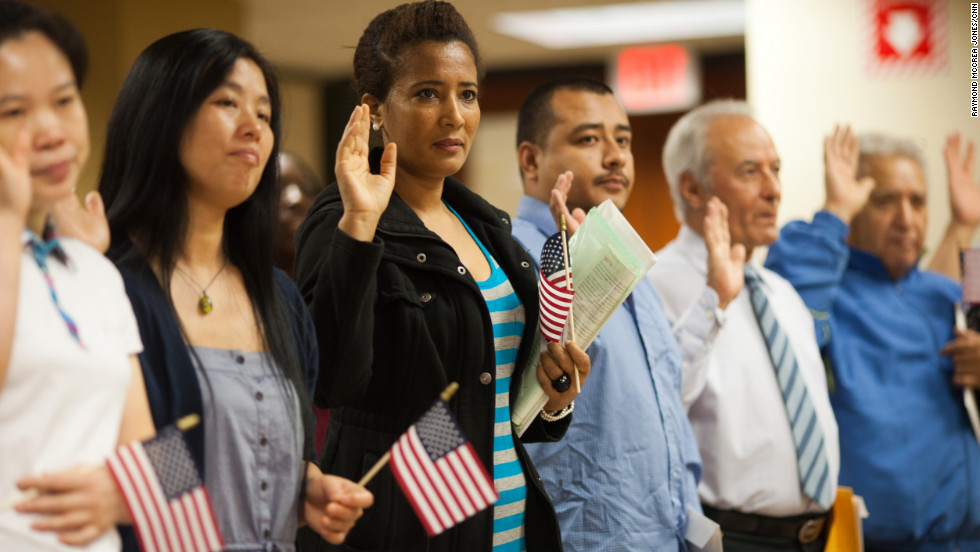 Immigrants take the Oath of Allegiance during a naturalization ceremony in Atlanta to officially become U.S. citizens. Photo: CNN.com


A pupil may retake the exam until the pupil obtains the passing score required.

A limited-English proficient pupil could take the civics in the pupil's language of choice.

The language that has been inserted into the budget mirrors language from a bill proposed in the current legislative session by state Representative James Edming (R-Glen Flora) that got a public hearing earlier this month.

Makes total sense to me.

Who in their right mind would actually be opposed to such a bill, to such language in the state budget? Take a guess. You won't be surprised. Cue the whining and moaning and complaining. And the usual suspects.

From the Journal Sentinel;

But not everyone is on board with having students take the test.
"The only people who have given me any guff on this are educators, school administrators," Edming said. "I think where they're coming from is there is enough testing going on and we don't need another test. I don't consider this a test. A kid can take it and pass it, he's done. A kid can take it first day as a freshman and never have to do it again. He can do it online."
Edming's civics test bill had a hearing in committee and several groups came out in opposition during testimony, including the WisconsinEducation Association Council and the American Civil Liberties Union of Wisconsin.

Opponents pointed out that while it's important to encourage civics education, adding another required test would be difficult on students and teachers.

Say what?
Opponents pointed out that while it's important to encourage civics education, adding another required test would be difficult on students and teachers.

Poor lil' darlin's. Wouldn't want to set the bar a little higher and expect hard work from the babies now, would we? And the same goes for teachers.

Too difficult for students?

Too difficult to administer another test?

THE TEST HAS ALREADY BEEN DRAWN UP!

Here are those oh so difficult questions (and answers) that would be simply so problematic, so tough, so traumatic for students and teachers.

How punitive. How cruel.

Where is the love? Where is the compassion?

Why, why, why must we subject our fragile teachers and students to yet another test, this time civics? Why, for heaven's sake?


American students flunk their own history, geography


America's knowledge crisis


Apparently that doesn't seem to bother teachers, the teacher unions, and the ACLU.

We won't get the best from our students unless we expect the best.

WI school districts, you might want to get ready.

From Mayor Olson's Facebook page:

QuadPackaging expands their Franklin Business Park campus.
The Community Development Authority this evening approved an estimated $4 million expansion of the production facility of QuadPackaging (formerly Proteus) in the Franklin Business Park. Construction will start soon.