Kevin Fischer is a veteran broadcaster, the recipient of over 150 major journalism awards from the Milwaukee Press Club, the Wisconsin Associated Press, the Northwest Broadcast News Association, the Wisconsin Bar Association, and others. He has been seen and heard on Milwaukee TV and radio stations for over three decades. A longtime aide to state Senate Republicans in the Wisconsin Legislature, Kevin can be seen offering his views on the news on the public affairs program, "InterCHANGE," on Milwaukee Public Television Channel 10, and heard filling in on Newstalk 1130 WISN. He lives with his wife, Jennifer, and their lovely young daughter, Kyla Audrey, in Franklin.

Here are interesting articles from the past week I want to share:

Stupid is the new normal

"It won't be cheaper, you can't keep your coverage or your doctor, it won't cover everyone, and if you need it, you can't sign up. Oh, and just wait until you have to see a doctor. I'm sure THAT ought to be easy (eye roll).
"Other than those little 'glitches' the law works great."


You're next

"The estimated 149 million Americans under age 65 who get their health insurance through their employers could be the next group to feel the impact of the Affordable Care Act.
"Open enrollment for 2014 is about to begin at thousands of companies, and many employers are blaming Obamacare—at least in part—for cost increases they are passing on to their workers."


United against ObamaCare
"Dear Mr. President,
"Thank you, thank you — sort of.
"You have been able to do something my father was never able to do — bring my sister Patti and me together politically.
"You remember my rebellious sister Patti Davis?"


Americans keep moving to states with low taxes

"...people don't move away from opportunity. They move partly in response to economic incentives, but also to pursue dreams and escape nightmares."


Preserving America's greatness

"It's vitally important that young Americans learn American history.

"Unfortunately, recent surveys show that we aren't currently doing a good job of passing on our nation's history to our youth. Too many students today are failing to learn American history. They are also failing to learn why America is an exceptional nation -- the reason so many people dream of becoming American."


Are smartphones a menace to society?

"Smartphones are everywhere. Some studies have nearly three-quarters of all cell phone users in the U.S. are now using smartphones. In cities like San Francisco and New York, it's become difficult to simply walk down the street without a near-collision with another pedestrian engrossed in his or her 4-inch screen."


How did it get OK...

"This post may offend some readers, recruiters or not. But only because it's going to cut close to the bone for many.

"And I don't care if I sound old-fashioned, because actually it's nothing to do with 'fashion' or 'generation'. It's got everything to do with basic good manners and respect for other people.
"So here goes... How did it get to be 'OK' for people to be late for everything?"


What to be for Halloween

"The wife and I came up with so many Halloween costume ideas this year to satirize Washington politicians, but we aren't sure which to choose."
"You speak of a relatively recent trend in which adults pick or create Halloween costumes that mock or satirize current events and popular culture. Robert Thompson, a pop-culture expert and the founding director of the Bleier Center for Television and Popular Culture at Syracuse University, explained the trend to me."


AND FINALLY, NEXT WEEK'S COVER OF THE LATEST NEW YORKER MAGAZINE: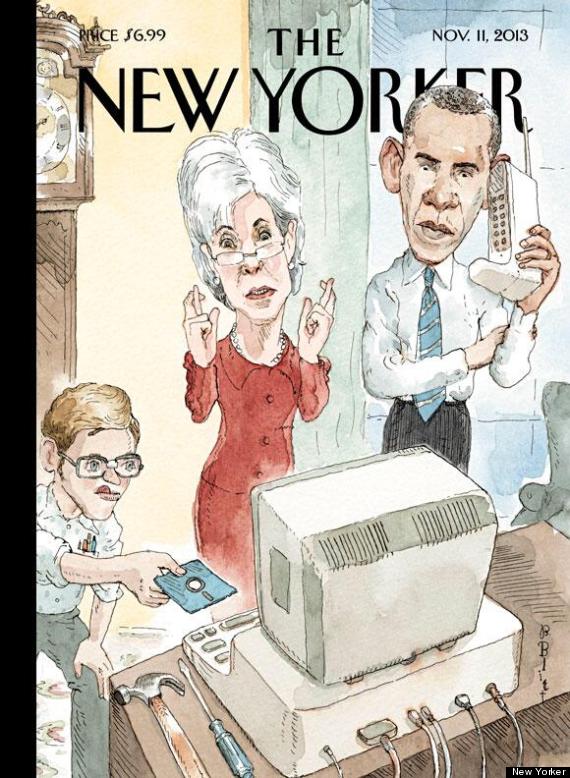 This site uses Facebook comments to make it easier for you to contribute. If you see a comment you would like to flag for spam or abuse, click the "x" in the upper right of it. By posting, you agree to our Terms of Use.