Kevin Fischer is a veteran broadcaster, the recipient of over 150 major journalism awards from the Milwaukee Press Club, the Wisconsin Associated Press, the Northwest Broadcast News Association, the Wisconsin Bar Association, and others. He has been seen and heard on Milwaukee TV and radio stations for over three decades. A longtime aide to state Senate Republicans in the Wisconsin Legislature, Kevin can be seen offering his views on the news on the public affairs program, "InterCHANGE," on Milwaukee Public Television Channel 10, and heard filling in on Newstalk 1130 WISN. He lives with his wife, Jennifer, and their lovely young daughter, Kyla Audrey, in Franklin.

"That's the uncanny power of a good TV theme song, one with actual lyrics. From the 50s onwards, they were the proto-earworms, getting free heavy rotation in living rooms across the land. Singalong TV themes might have fallen out of favour in the age of 24-style bleeps or Breaking Bad's guitar-tuning twangs, but the very best examples remain powerful weapons of mass distraction."
The Guardian


It's Friday night.

The weekend has finally arrived.

The sun has set.

The evening sky has erupted.

Time to unwind with our regular Friday night music feature on This Just In.





Jim Salem carries a discarded analog television set to a bin at the Broward County Waste & Recycling Services Solid Waste center on June 5, 2009, in Pompano Beach, Florida.(Photo: Joe Raedle, Getty Images)

Zero TV households make up less than 5% of U.S. homes but their numbers have more than doubled since 2007, according to Nielsen. Being a Zero TV household doesn't mean there is no TV. The TVs are connected to the Internet, not to cable or satellite services.

Last month, David Horsey wrote in the LA Times about America's obsession with TV binge-viewing:

"America has shifted from a country in which TV viewers once had weekly appointments with favorite shows — sort of like a pre-scheduled session with a therapist — to a country in which followers of TV programs engage in all-night binges — sort of like a frat house party.
"In the new world of television, there is no such thing as missing a show. If you were out to dinner on the night the final installment of 'Breaking Bad' was shown, you can still find it days and weeks later. In fact, if you have never watched the exploits of Walter the meth king, but now want to see what all the fuss was about, you can access every single episode."

This phenomenon has changed the role of the TV theme song making it less relevant.

The Wall Street Journal writes:

"In the age of binge-viewing, it's more important than ever that a theme song be catchy. Now that viewers can watch any show at any time, a familiar song can provide an anchor for a series and preserve the sense of ritual attached to following it."

Such is the reality of modern technology. No matter how marvelous, no matter the "wow" factor, there's a down side.

Compact discs punched classic album covers onto the ropes. Downloads and iPhones and iPads knocked them out. Binge-viewing has pushed TV theme songs and instrumentals to the back of the bus.

So tonight we focus on some vintage, memorable television music and while you're enjoying, ask yourself, what's the last great TV theme and how long ago was it made?

We begin with a TV theme that's just plain cool, performed by the Hullabaloo Dancers from the 60's "Hullabaloo" program.







Neal Hefti wrote the Batman theme and won a Grammy, but it wasn't easy. "Hardest piece I ever wrote," he said. "I agonized over it for six weeks. I couldn't get inspired. I'd watched two hours of film footage and thought, 'This is the campiest thing I've ever seen.' But then I felt what I was writing was not as good as the show. I never had a moment of 'Eureka!'"

Next another classic that needs no introduction. It was written by Lalo Schifrin whose impressive resume includes The Man From U.N.C.L.E., The C.A.T. ,Medical Center, Starsky & Hutch, Planet of The Apes, Mannix, Once A Thief, Murderer's Row, The Cincinnati Kid, The Liquidator, Bullitt, Cool Hand Luke , Dirty Harry , and of course…





Discovered by Quincy Jones at the Notre Dame Jazz Festival in 1963, Bob James has been a fixture in jazz ever since. His best known work is "Angela." You probably know it by another name. James performs with Kirk Whalum.








I hope you're enjoying some of these vintage TV themes and that they're bringing back good memories. We do this every Friday to demonstrate that despite what pop culture tries to pass off as art, there's plenty of really good music around. Henry Mancini gave us some of the best.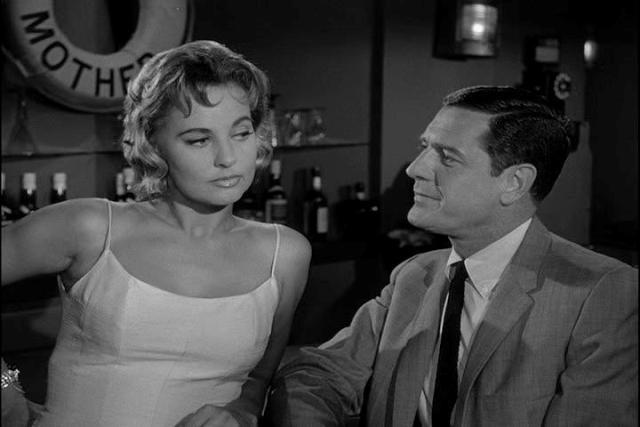 Lola Albright and Craig Stevens in Mother's Place in the old TV series, "Peter Gunn" that featured, in my view, the greatest theme of all-time.

That's it for tonight.

Goodnight.

Sleep well.

Have a great weekend.

We close by traveling all the way to Finland for the Lahti Symphony Orchestra (Note the eyewear).


This site uses Facebook comments to make it easier for you to contribute. If you see a comment you would like to flag for spam or abuse, click the "x" in the upper right of it. By posting, you agree to our Terms of Use.