Kevin Fischer is a veteran broadcaster, the recipient of over 150 major journalism awards from the Milwaukee Press Club, the Wisconsin Associated Press, the Northwest Broadcast News Association, the Wisconsin Bar Association, and others. He has been seen and heard on Milwaukee TV and radio stations for over three decades. A longtime aide to state Senate Republicans in the Wisconsin Legislature, Kevin can be seen offering his views on the news on the public affairs program, "InterCHANGE," on Milwaukee Public Television Channel 10, and heard filling in on Newstalk 1130 WISN. He lives with his wife, Jennifer, and their lovely young daughter, Kyla Audrey, in Franklin.
THERE ARE THOUSANDS AND THOUSANDS OF
FOOD BLOGS, BUT ONLY ONE CULINARY NO-
NO!


I've had the experience. I'm sure you have, too.







That view is inside the Bellanico Restaurant and Wine Bar in Oakland, California.

Take a good look.





What am I getting at? Let's visit another restaurant to be much more specific.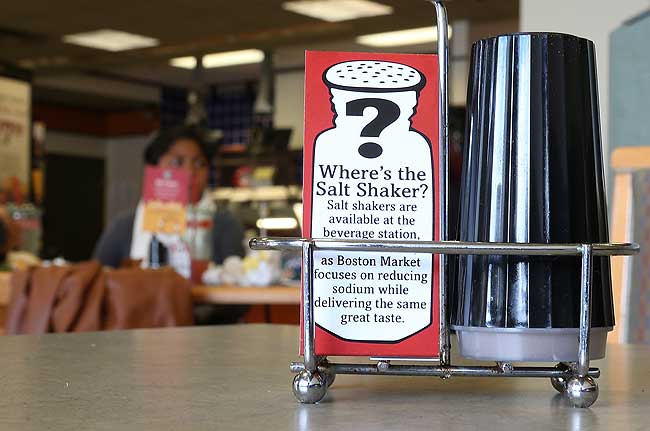 Last month, Michael Bauer, the executive food and wine editor and restaurant critic for the San Francisco Chronicle was asked to respond to a diner's question:

"I just returned from a lovely dinner at Bellanico in Oakland. The first two courses of the tasting menu were perfect, as was my chicken breast main course, but the spinach and potatoes needed a bit of salt. Looking around, I noticed there was no salt or pepper at any table. I asked our waitperson for some salt, which was promptly brought. However, on the way out, I inquired as to why there was no salt or pepper on tables. She said that the chef did not think it was necessary.
"I found this answer to be rather pretentious. The chef was excellent, no question, but I cannot believe that he hits his seasonings perfectly every time (witness the spinach). So, I pose you the question: How do you feel about the increasing number of restaurants that have abandoned s&p on tables? I'd appreciate your opinion."
Bauer reply was short and sweet, but probably not so sweet to the chef at Bellanico.

"It's simple: I don't like it. I think it smacks of arrogance."

Bellanico chef Jonathan Luce wasn't about to have salt rubbed in his wounds, so he wrote back, in part:
"Not fond of your 'smacking of arrogance' judgment. Arrogance…even a hint of it wasn't behind this decision and I certainly do not tell our waiters to tell our customers that 'the chef doesn't think it is necessary'.
"We do strive to perfectly season our food, which I am sure is how others chefs feel about this matter. Diners are very sophisticated these days and expect their food to be perfectly salted. Any chef worth their salt (ha,ha) knows this and strives to attain this goal. We do gladly provide good quality sea salt immediately if it is requested.

"The reason we removed salt and pepper shakers from our tables at Bellanico was plain and simple: table real estate. Our tables get crowded very quickly with plates, bread plates, wineglasses, and share plates, not too mention flights of wine. We noticed that the vast majority of diners were not using them anyway and frequently enough were knocking them over, sometimes breaking them."
Recently, the New York Times opened the entire topic up for debate.

Remember the Bellanico chef objected to being called arrogant. Philadelphia chef Kevin Sbrjara says he doesn't put salt on his tables:

"The obvious reason is because my food is seasoned properly ... or at least I would like to think so…Ultimately, it might be a control thing."

Sounds arrogant to me.

Mark Kurlansky, author of "Salt: A World History," says:

"In a restaurant, the chef should determine the seasoning of the food, and you may judge the restaurant on the choices made. If you want to decide for yourself, eat at home. Salt no more belongs on a table than do cloves or cinnamon or, for that matter, pepper."

Wow. You can hear his nose scraping the ceiling.

I side with a view taken by Marcus Samuelsson, chef and author, most recently, of "Yes, Chef: A Memoir." Samuelsson says:

"At the end of the day we are here for a need and that need is our customer. So it's not for us to say if one can use more or less salt. "

BINGO!

The chef knows best? No. The customer knows what he or she wants. So let the customer decide. Because, guess what? No matter how accomplished you are, some diner will think you DID NOT season the dish perfectly.

Read the entire NY Times debate here.


CULINARY NO-NO BONUSES


You may not think you're doing it, but you are.


Doesn't he own a microwave?


AND FINALLY,

One of the worst no-no's …EVER!
This site uses Facebook comments to make it easier for you to contribute. If you see a comment you would like to flag for spam or abuse, click the "x" in the upper right of it. By posting, you agree to our Terms of Use.